This year was a fantastic year for TV — both new and returning. The loss in the past five years of prestige fave shows like Breaking Bad, Mad Men etc. is sneakily great, because it paves the way for a list that is far more interesting than ones we've all made in previous years.
In the end, though there are literally dozens of shows I have loved watching this year, I went with the ones I considered to be "appointment television" (something that's relatively difficult to create now that TV happens on all manner of platforms). Or, if you like, the TV version of "couldn't put it down". I couldn't not watch them as soon as they premiered because I loved them so much.
Look, I have ordered the list. But if I looked at it again tomorrow, honestly I would probably change my mind all over again.
---
10. Get Krack!n, ABC
The Katering Show, Kates McLennan and McCartney's brilliant webseries parody of a daytime cooking program, jumped from cult hit to national phenomenon in a matter of months just two years ago, and though there are (bizarrely) still Aussies who haven't seen the Kates' original masterpiece, it remains one of Australian screen's crowning achievements. (The "I Quit Sugar" episode is still one of the funniest ten minutes of comedy in history.)

Get Krack!n, the Kates' first half-hour comedy project, is not as tight or insightful as The Katering Show was, but less than platinum is still gold, and Get Krack!n is 24-carat goodness. It's a brilliant showcase for the Kates' myriad comedy talents, a sharp skewering of women's place in Australian entertainment, and a wonderful home for some of Australia's intersectional female talent: stars-in-the-making Nakkiah Lui, Anne Edmonds, Candy Bowers, Michelle Lim Davidson, Charlotte Nicdao and others.
The "Sa-rong, Sa-right" sketch remains the most iconic from the short season, but my favourite is still Michelle Lim Davidson's "East Asian Blepharoplasty" sketch, if only for the killer line: "this is a long-lasting solution to the permanent problem of being ethnic". Get Krack!n is more than necessary in Australia's still male-dominated television line-up, and it's laugh-out-loud hysterical.
Katch up if you missed it, or read my full review here: 

'Get Krack!n' Is A Gloriously Bonkers Evolution For The Women Of 'The Katering Show'

---
9. BoJack Horseman, Netflix

BoJack Horseman is one of those rare shows that improves exponentially with each new season — perhaps because creator Raphael Bob-Waksberg becomes a little more daring every time he returns to the odd, dark, stirring and always amusing animated series. If you haven't yet watched BoJack, I'd really encourage you to catch up on some of the most poignant and pun-packed mournful comedy on TV (if that description appeals to you, this show is exactly for you).
This season, as with all of them, a few showcase episodes stood out, a bombshell was revealed, and Bob-Waksberg and his team built on their intricate network of simple but brilliant jokes to create an outstanding season of television that delights and depresses in equal measure. Will Arnett's work as BoJack is still some of the best voice acting in screen history — and without a doubt his best perfomance since GOB in Arrested Development, in fact, probably better still — and the rest of the team, including the fabulous Amy Sedaris as Princess Carolyn, who had the best episode of the season in 'Ruthie', and the wonderful Wendie Malick as BoJack's tragic but cruel mother, Beatrice, perform consistently outstanding work episode after episode.
BoJack Horseman defies expectations every season, and continues to grow into an unexpectedly essential series for our current social and emotional climate. It's a real grown-up animated series, but still with enough of the absurd and the foolish to satisfy. Plus, it should be commended, if nothing else, for engaging Jessica Biel to perform such a convincing and hilarious self-parody as a power-mad pyromaniac Jessica Biel in one of the season's weirdest/cleverest episodes, "Underground".
Read my two-part interview with BoJack Horseman creator Raphael Bob-Waksberg here and here. 
---
8. Younger, Stan 
Boy, Younger certainly is a series that's sneaked up on all of us. The high-concept rom-com tale of Liza, a 41-year-old divorcee who passes herself off as 26 to gain access to an entry-level job in the competitive New York publishing industry, doesn't seem like it should be one of the best shows of the year — but I assure you it is.
One of those series that grows on you a little more with each new visit, in its infinite wisdom Stan saw something few others did and bought the series right before it really took off. So now, thanks to the savvy streaming service, Australian audiences get to (legally) view the show on a week-by-week basis, just like its native US audience. Interestingly, the series is so deeply consumable it actually doesn't quite work as well in weekly installments — it's so damn good, and each episode ends with such a neat, delectable mini-cliffhanger, you want to binge it all at once.
There are a lot of things that are brilliant about Younger: how it champions reading in an increasingly digital age; how it's a showcase for some fabulous (if depressingly white) female stars; how cleverly it adapts the rom-com genre to be a satisfying, exciting and genuinely conflicting part of the TV experience. And I love its four stars, Sutton Foster, Hilary Duff, Miriam Shor and the great Debi Mazar, in equal measure (Younger is a far better showcase for Foster than Bunheads ever was, sorry ASP fans). But perhaps the best thing about Younger is how, at the centre of it, it's about women working.
Especially in 2017, when we're seeing so many of the reasons why women find working in male-dominated and male-topped workplaces so impossible, it's utterly invaluable for a show like Younger, with all its fluffy fantasy foolishness, to centre itself on the woman's working experience. How women work together, how they balance their personal and work lives, how they channel their ambition into success, and how they combat the challenges of the workplace (most of them wrought by men). I love Younger for that, and for being a candy-floss show with a steel backbone — which makes it the perfect blend of fun and fire for the intellgient women crying out to see themselves and their worlds reflected on the screen.
One more thing: the outfits are to die for! Wonderful, crazy costume designs from the great Patricia Field, who also designed TV costume icon Sex And The City.
Read my commentary on women working on TV for more of my thoughts on Younger: 
Why It's Still Revolutionary To See Women Working On TV
---
7. Queen Sugar, OWN (US)
I haven't been able to find where 
Queen Sugar
, Ava DuVernay's sumptuous, apocalyptically emotional series, plays in Australia, aside from on the Qantas Entertainment system — which is where I watched the first three episodes of this magic series, on flights to and from Sydney this year. It's so, so good, and so undervalued by TV critics everywhere, but it's one show from 2017 you simply must seek out, no matter the method.
DuVernay, the iconic film director who helmed Selma, 13th and Middle Of Nowhehere (and will bring us the highly anticipated Disney adaptation of A Wrinkle In Time next year), has created a hefty, visually scrumptious and emotion-driven series that charts the lives of the estranged Bordelon family, a sugarcane-farming clan from Louisiana, who are reunited after a family tragedy.
In its review of season two, Salon called the series "an act of black daring", and it is: a cinematic, sprawling family drama executive-produced by two brilliant black woman, and starring some of the best actors of colour in Hollywood, including Rutina Wesley, Kofi Siriboe and Omar Dorsey. Also, every episode of the show's first season is directed by a woman, which is essentially unheard of in Hollywood. An impactful, addictive series, Queen Sugar is a criminally underrated TV masterpiece.
---
6. The Leftovers, Foxtel
Speaking of underrated, Damon Lindeloff's cult insta-classic, The Leftovers, finished up its third and final season this year with a string of episodes set largely in Melbourne, Australia and its surrounds. The fact that the series' third season (for no discernable reason other than that, it appears, Lindeloff is a fan of Down Under) was set in Australia was  pretty cool, but the series has also been one of the most outrageous and daring TV feats of this millenium.
Achingly beautiful, often cruel and deeply contemplative, The Leftovers' second season was a masterpiece, and its third season, including an ending so thoughtful I will consider it for a long time yet, was bonkers brilliant, just beyond almost anything I've ever seen before.
The series features captivating imagery, outstanding performances from its well-chosen cast, and ruminations on life, the state of the world and the reasons for existence (if there are any) that will remain with me forever, probably. Including two unfaltering, sexually charged, powerhouse performances from leads Justin Theroux and Carrie Coon, the series ended just how I never knew I wanted it to, and it's so good and so mad — it's worth every second of the (considerably confusing) 28 hours you will sink into it. Good luck!
---
5. Rosehaven, ABC

This year I've been missing Josh Thomas's delightful, poignant and undeniably funny Please Like Me, which finished up with a killer final season in 2016 (somehow managing to end the way we always thought it would, but to still be satisfying and surpsising as hell). If anything on Australian TV now is the heir-apparent to that darling, delicious show, it's Rosehaven, the cheeky, heart-warming series from creators and co-stars Celia Pacquola and Luke McGregor.
The show follows good friends Daniel and Emma, who run Dan's family real estate business in regional Tasmanian town Rosehaven. Unlike most things Australian broadcasters commission as comedy, Rosehaven has a relaxed but essential vibe, as well as a gentle larrikin sensibility that doesn't condescend to or alienate its audience (or the characters on its screen). Pacquola and McGregor are extremely watchable, and their writing is sharp and relevant. But, more than anything else, Rosehaven manages to always be easy entertainment that feels like a kind of wholesome balm for your week.
Australians are terrible at watching, appreciating and championing our own television and films — our cultural cringe is more pronounced than any other country I can think of — but please, please watch Rosehaven. It's truly one of the most charming things you'll ingest this year. (Although, now the show has premiered in the US on Sundance TV, and is getting a palpable buzz there, perhaps Aussie viewers will finally pay attention — which is just what happened to the beloved Please Like Me, too.)
---
4. RuPaul's Drag Race, Stan

The zeigeist has finally caught up to RuPaul's Drag Race, the number one reality show of the past century, which has been playing in my house for years thanks to my Ru-obsessed former housemate and best mate, Will. The most recent season (9), premiered week-by-week on Stan for the very first time (another smart buy for the streaming service), and though the series was edited somewhat differently this year (less mini-challenges, more of the queens chatting backstage), this season was one that showed how far the series has come in its long years on screen. **Spoilers ahead for season 9**
My personal drag preferences in past seasons have always been for the glamour queens (Violet Chachki, Naomi Smalls etc) or the comedy queens (Alaska Thunderfuck, Katya, Kim Chi etc), and though I was initially taken with the gorgeous (and, as it turned out, psychotic) Valentina in season 9, from the very beginning my heart belonged to the eventual winner, Sasha Velour. Becuase Sasha is undeniable.
The finale was different in season 9 to the previous years, and though many long-time fans complained about the format, and though there was a lot of support behind seasoned queen Shea Coulee (who is also wonderful, and is the kind of queen RuPaul might ordinarily anoint as winner), the inimitable Sasha took it. Sasha is an intellectual queen, and she's such an oddball. Like all the best and most fascinating queens, she has a touch of the grotesque about her, as well as a dynamic sensibility and a flawless, highly individual look.
Her win (apart from being just so obvious — she was never on the bottom the whole damn season) shows how savvy Ru is as a businessperson: she knows that drag is once again evolving, and taking on a brand-new legion of followers, and she could clearly see that Sasha represented that forward momentum best — capturing the hearts of drag fans old and new.
Sharp, funny, emotional, creative and just plain nuts, RuPaul is truly the appointment television of every year. So hurry up and get on board, already!
---
3. The Good Place, Netflix
The Good Place is another series that sneaked up on me — and all of us. I had to watch the dismal pilot three times to get through it, but as soon as I moved on from there I was hooked. Created by the brilliant Mike Shur (The Office, Parks and Recreation, Brooklyn Nine-Nine) The Good Place follows the unexpected fortunes of Eleanor Shelstrop (an iconic Kristen Bell), a bad girl who is mistakenly sent to 'The Good Place' (as opposed to 'The Bad Place', where she feels she truly belongs) after she dies. The Good Place is a candy-coloured wonderland full of philanthropic marvels, ethics professors, silent Tibetan monks and dozens of frozen yoghurt shops, and it's run by Michael (Ted Danson, proving why he has endured in TV comedy for as long as he has) and his omnipotent android/angel sidekick, Janet (D'Arcy Carden, perhaps the best comedic invention in decades).
The first season, which was loaded onto Netflix without much fanfare, features a diabolical and truly satisfying end-of-season twist, which I won't reveal here as it would spoil the whole thing for you; and the second season has more than lived up to the intense promise of that reveal. Each episode is a marvel, featuring an eclectic ensemble of little-known performers doing superlative comedic work with Bell at the helm. The show is the best vehicle for Bell's wry, knowing, motormouth comedy stylings since the wonderful Veronica Mars (and almost erases her appearance in Showtime's dreadful — and, incredibly, still running — House Of Lies). As Eleanor, Bell is wonderful, the part was essentially crafted for her myriad talents, and she's so deeply watchable and relatable in the role. But everyone else, especially Danson and Carden, is just as marvellous.
It's kooky and silly, but like all Shur comedies it's really about community — as well as that indefinable thing I guess you'd call, for want of a better phrase, ordinary goodness. We'll have to wait all the way until January for new The Good Place to be released on Netflix, but if you're behind, it's the perfect time for you to catch up on the show everyone is talking about.
---
2. Crazy Ex-Girlfriend, Eleven (and Netflix)
Don't sleep on Crazy Ex-Girlfriend, the best comedy on TV this year by a country mile. It's a show that puts a lot of people off for a lot of reasons: it's a musical comedy, it's a romantic-comedy, it's got a dreadful name and it's on The CW in the US (a traditional trash channel). But missing out on this show is utterly criminal now it has entered its third and utterly superlative season, taking its high concept — a mentally-ill woman travels across the continential US from New York to West Covina, California, to chase her high school summer fling Josh Chan — far beyond its natural conclusion into a brand-new and ingenious place.
The best thing about the show is undoubtedly Rachel Bloom (who plays the lead and titular crazy ex, Rebecca Bunch), the multi-faceted co-creator, writer and star of the series, who this season has been able to show the very extent of her comedic and dramatic brilliance as the show goes deep and dark on Rebecca's previously under-explored mental health issues. The episode "Josh Is Irrelevant" (an apt name for a severe pivot in a series that has felt single-focused on Josh Chan for the past two-and-a-bit seasons) is a masterful blend of exploration, pathos, realism and the characteristic zany humour that makes the show so digestible every episode. It also features the show's surprise best song ever — and the most unapologetically musical theatre-esque — "A Diagnosis", which reads as a thesis statement for where we never knew the show was always going.
Though the series has turned darker and more serious this season, it remains one of the most razor-sharp, absurdly funny shows on TV. I know lots of people skip the songs, but they're honestly the best part, and some of my favourites (which you can watch online to get you into the show if you're still uncertain) are: "Settle For Me", "OMG I Think I Like You", "Love Kernels", "First Penis I Saw", "Duh", "Let's Generalise About Men", "I Go To The Zoo" and "Heavy Boobs". But there are literally dozens more brilliant songs than those. What makes the music on CEG so good is how perfectly they pick the musical genre for each one, how sharp and deeply funny the lyrics are, and how brilliant each one of the performers (especially Bloom, Donna Lynne Chapman and Vincent Roderiguez III) is — as well as that essential thing that makes all musical songs perfect: that they feel like the only appropriate language by which that particular character would express that exact sentiment at that time. It's not a tacked-on song — it's a whole other (native) language for the series, and the fact that it's set to music makes complete sense.
I could write for thousands of words on what makes Crazy Ex-Girfriend so special: how perfectly it pays homage to the expansiveness of musicality, how well (and with such gentle love) it skewers the romantic genre, how consistently strong each and every episode is, and how wonderful all the performances are — but truly what makes the show so brilliant is just that it tells the story of a woman with a mental illness. Finally there is an uncondescending, poignant, intelligent, sensitive and surprisingly funny portrayal of specifically female mental illness for us to identify with in the culture; suddenly, you're not crazy and neither am I, because "the situation's a lot more nuanced than that".
The only show that makes me laugh and weep in equal measure, and which I revisit consistently on YouTube (in the form of the wonderful songs) to feel happy, sad, romantic, everything… Crazy Ex-Girlfriend is truly everything you could ever want from entertainment.
Read my review of the first season of Crazy Ex-Girlfriend:

Introducing 'Crazy Ex-Girlfriend': A New Musical Comedy You'll Actually Love

---
1. Big Little Lies, Foxtel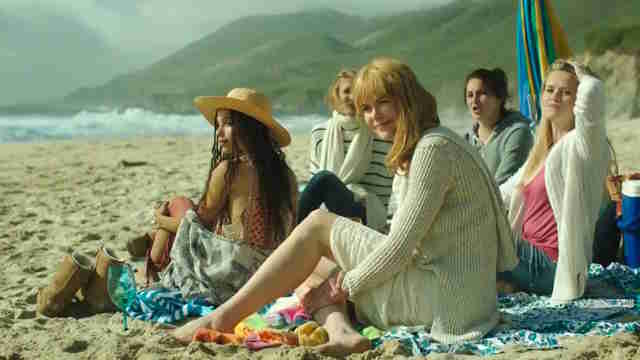 I got down to the top two on my list — Big Little Lies and Crazy Ex-Girlfriend — and I jostled them between the top spot for a good deal of time before I made my final decision. In the end, Big Little Lies won out because it captured the public's hearts in a way I haven't seen a female-centric series do in… well, maybe ever.
The lush HBO adaptation of Liane Moriarty's bestselling Australian novel, repurposed for an American audience, was co-created by Oscar winners Nicole Kidman and Reese Witherspoon (who also starred in the series), so the buzz was pretty much there from day dot. That the show lived up to the hype — surpassed it even — is something else all together. Set before and after a fatal event at a PTA gala in glitzy Monterey Bay, California, the series centres on five mothers (Kidman, Witherspoon, Laura Dern, Shailene Woodley and Zoe Kravitz) who make friends or enemies of each other after one child (Woodley's) is accused of choking another (Dern's) at school.
The series is spiky, disturbing, cheeky and very, very beautiful; it also features knock-out performances from every single cast member, but especially from Kidman, Witherspoon, Dern and Alexander Skarsgard, who transforms into a true monster as Kidman's abusive husband Perry. It's divine to watch and utterly absorbing; it also features the kinds of conversations you just don't ever see on TV: ones between middle-aged women (albeit rich, beautful and white ones) about their lives, and how family and work intersects.
The series caught the zeitgeist of 2017 (post-Weinstein) before Weinstein even happened, so it feels somewhat magical in how it predicted its own trendiness. It's perhaps the first truly sensitive and even-handed — though so dark at times it's almost unwatchable — domestic violence storyline in television history, and includes some absorbing scenes between Kidman's Celeste and her therapist (played by Robin Weigert). And in a year when television music supervision turned far too saccharine and on-the-nose, Big Little Lies follows in the footsteps of TV great The Good Wife to present viewers with stylish, intuitive yet off-the-wall music that actually surprises and inspires.
BLL is winning all the awards for TV this year for good reason; though officially an "anthology" series, it's tight, clever and dramatic storytelling that brings you a perspective little seen on TV. It also does my favourite thing a TV show can do: tells its story in the exact number of chapters it needs. The show is seven episodes long, and that's all it needs to be the most impactful thing you'll watch this year.
Also: it's worth noting that, despite how BLL captured a culture's consciousness, in April I wrote how male critics had dismissed the series despite its prowess, and in December most male critics have forgotten it again — so it's ended up primarily on female critics' lists. A clear message that we need to diversify the critical space ASAP.
Read my pieces on Big Little Lies from this year here:
What Male Critics Dismissal Of 'Big Little Lies' Says About Women's Stories

'Top Of The Lake' Is One Of 2017's Most Terrifying Interrogations Of Toxic Men

---
Honourable Mentions
I love TV so much I couldn't actually pick just 10, so some of the other shows I loved are Insecure, Issa Rae's funny, subversive and darling half-hour comedy that went from great to brilliant in season two; The Handmaid's Tale, which wasn't always amazing, but when it was on, boy, it was on, and featured brilliant performances from Elisabeth Moss, Ann Dowd, Alexis Bledel and the undervalued Samira Wiley, who needs to be put in everything immediately; Catastrophe, which is still a laugh-out-loud gem of a series from start to finish in every episode, featuring sparkling performances from co-creators Rob Delaney and Sharon Horgan, who are brilliant solo but better together, always; The Great British Bake Off, which survived and thrived after the loss of Mary, Sue and Mel, Prue makes Paul Hollywood lighter, and Sandy and Noel were made to be hosts, the show remains as charming as it ever was, and a necessary balm for the bombsite that was 2017; Master Of None, a wonderful, messy, magic follow-up season to its brilliant but perhaps overly ambitious and too-polished first season, with the best TV shot of the year (Aziz, long track shot, the back of the taxi — beyond poignant); Project Runway, which still manages to be a strong, intelligent and entertaining exploration of what makes fashion so essential in our lives, and how media portrayal of trends affects our culture, this year was the first year with models of all sizes and the show has exponentially improved as a result — plus, Zac Posen is the best TV judge in history; Stranger Things 2, which I believe improved on the risk and reward of season one, and gave us the breakout performance of 2017 in Joe Keery's Steve Harrington; and Girls' season seven finale, which polished off this adventurous, thought-provoking and prickly show in an uncharacteristically quiet fashion, and the esteem for which I hope outlives the rightful disdain for its creator, Lena Dunham.
—
Look out for my lists of online writing, books and films I enjoyed most this year, coming soon!